Sang
eet Natak Akademi Fellowship 2015
師匠
C.V.Chandrasekhar先生が
2015年のSang
eet Natak Akademi Fellowshipとして選ばれ、
10月4日授賞式が行われま
した。
インドのperforming artsの分野で優れた人として選ばれた大変名誉ある賞です。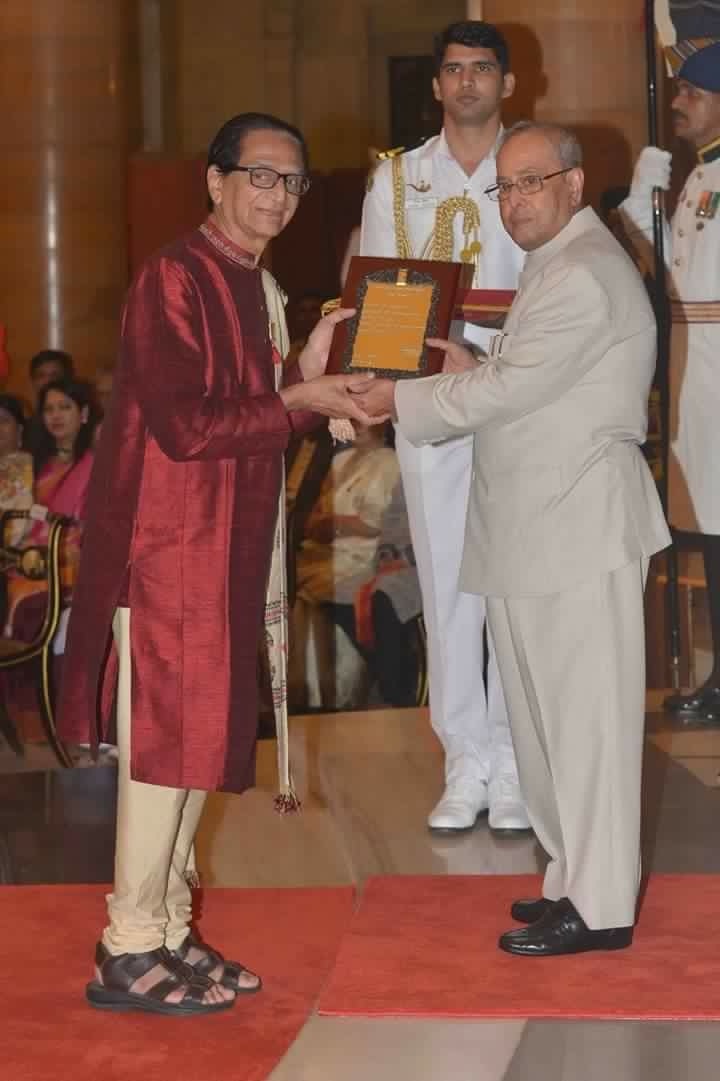 インドのPranab Mukharjee首相から授賞されました。
Sangeet Natak Akademi awardについて↓
授賞式についての記事です↓
by sachie
2014年、チェンナイの師匠のお宅に到着した日、師匠がTHE HINDU掲載記事を見せてくださいました。
弟子の1人、フリーのライターである方が書いた記事です。
http://m.thehindu.com/features/metroplus/seventynine-and-lightfooted/article6200946.ece/?maneref=http%3A%2F%2Fm.thehindu.com%2Fentertainment%2F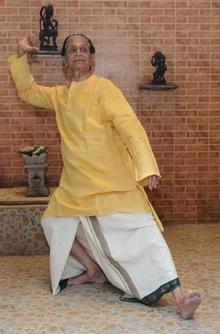 Every time I dance on stage, I feel blessed that my body permits me to do so, says C.V. Chandrasekhar. Photo: R. Ragu
Bharatanatyam maestro C.V. Chandrasekhar proves that age is indeed just a number
This septuagenarian's life comes together like the pieces of a jigsaw puzzle. From the small boy who used to sing a Bhairavi padam to the Padma Bhushan award recipient, Professor C.V. Chandrasekhar's life has been one of passionate dedication to Indian arts. He is a living portrait of the perfect dancer, loved and admired by not just the dance community but also by researchers, scholars and musicians across the globe.
Born in Shimla, Chandrasekhar spent his childhood in Delhi. In 1945, Chandrashekhar's father sent the boy to Madras for academics and to pursue music at Kalakshetra. In a few days' time, Rukmini Devi, founder of Kalakshetra, heard that the boy spent more time watching the dance classes through the windows. She wrote to his father seeking permission to teach him dance, and thus began Chandrasekhar's official training in Bharatanatyam.
"Interestingly, all my teachers names were 'Sarada' meaning knowledge; Karaikkal Saradamba Ammal, Sarada Hoffman and S. Sarada," says the professor wittily. By 1950, he finished school and joined the Vivekananda College in Madras. But he was allowed to stay on at the Kalakshetra campus where he could continue his learning through evening classes which happened to be George Arundale's birthday. Chandrashekharrecollects an incident when he was asked to demonstrate 'poor dancing' by his Guru at a workshop in RasikaRanjan Sabha. "The incident, although very insulting, might have worked as an inspiration," says Professor.
In 1954, he went to Banaras Hindu University to pursue a Master's degree in Botany. "One day while I was having a shower, I heard someone singing. He turned out to be a student of the Chemistry department. He was not a trained singer, but I was happy I had a singer for my practice. This gradually took shape into my forming a full-fledged orchestra," recalls Chandrasekhar. The group performed at the Inter-University Youth Festival and bagged the first prize.
Consequently, the then Vice Chancellor of Banaras Hindu University, C.P. Ramaswami Aiyer, who was leading a delegation to China requested Chandrasekhar to join the group. On the final day of the conference, he was asked to perform. As he put it, "Thanks to the Indian Embassy in Beijing I found an instrumental recording of 'Alarippu' and 'Natanam Adinar' which I choreographed and performed."
After a brief stint in a small scale industry, he taught at a boarding school in Mussoorie. "It is here that I met the principal of the Women's Christian College where I was accepted for a part-time Ph.D. programme in Botany. However, I had to give it up in 1961 due to issues with a professor."
The year 1962 was a turning point in his life when he met his dancer-wife, Jaya. "It was a coincidence that I was asked to meet Jaya, whom I had already met when I visited Lalitha Sastri's dance academy. Jaya was an integral part of the academy," he says with a smile. The wedding was held in Kolkata's Mullik Mansion. He glances at his wife and says, "I have no regrets, since I became we."
He served at the Banaras Hindu University as the professor of Performing Arts till 1979. The following year, he joined the M.S. University, Baroda, from where he retired as the head and dean of the Faculty of Performing Arts in 1992. "I tried to do complete justice to the responsibility that was given to me, besides keeping my practice going," points out the maestro.
He believed in demonstrating the nuances so that the students could get the move and the beat right. So, he would often dance while one of the students did the nattuvangam. However, in 1996, destiny beckoned the family to Chennai.
The scenario in Chennai had undergone a transformation since he had last lived here. So getting opportunities to perform was a challenge. "I gave up my job at M.S. University much before my retirement age and therefore, was not eligible to receive the monthly pension.
But I had a strong conviction that as long as I have the skill, knowledge and the thattukazhi in my hand, I would sail through," reiterates the guru. The role of media and marketing had begun in earnest but his knowledge and stamina were enough to compensate and ensure his commanding presence in the dance scene. of December I would sit and watch the Padma Awards. As a human being, I was bound to feel demoralized that my name was not in the list. The 60 Indian Independence celebration was held in various cities. I was not offered a single show. But these thoughts did not stop me from my practice," says Chandrasekhar who highlights, "It is not the dancer but the dance. That is where most of us make a mistake."
What makes you dance, I ask? He replies, "The love of the stage," and then with a grin adds, "It is the joy of dancing. When I dance, people watch me in silence. It is the goodness I receive from my audience that makes me dance again and again."
"Every time I dance on stage, I feel blessed that my body permits me to do so," remarks the Guru who was the recipient of the Sangeet Natak Akademi Award for Bharatanatyam in 1993, the Kalidas Samman in 2008 and the Padma Bhushan in 2011.
His daughters Manjari and Chitra are well-known dancers in their own right. His wife accompanies him at the nattuvangam. He has select students coming to him from all over the world to augment their skills with Chandrasekhar's brand of dance. And he continues to build on his legacy with a vision for the future.
C.V. Chandrashekar is being honoured
http://www.thehindu.com/news/cities/chennai/chen-arts/chen-dance/deep-faith-in-values/article4294283.ece?fb_action_ids=306220419499639&fb_action_types=og.likes&fb_source=aggregation&fb_aggregation_id=288381481237582
Life has come a full circle for the veteran dancer C.V. Chandrashekar. The little boy, who developed wings and learnt to fly in the sylvan surroundings of Kalakshetra, is back as a team member playing a role in decision making to guide and pave the path for young talents to blossom.
As a performing artist and teacher working in Benares University and M.S. University in Baroda, he was away from the public eye for a long time. After his return to Chennai, he has been showered with accolades and high recognition which he richly deserves.
The most coveted awards such as the Kalidas Samman and Nritya Choodamani, Natya Kala Acharya, Nadopasana and above all Padma Bhushan have been bestowed on him.
The latest in this list is the Guru-Sishya Parmparya Award for his contribution in passing on the rich legacy as a guru.
Standing behind with great happiness and revelling in his success is his life partner Jaya, who as his dancing partner and a teacher in her own right, moved away from the spotlight, to be his pillar of strength. We look back on his journey, of the rich legacy he inherited, imbibed, and is transmitting to the next generation.
Artistic journey
Music lessons as a five-year old was the starting point of his artistic journey but soon dance entered his life and he started dancing to songs dressed as a girl. He recalls how he would proudly perform in family functions the song 'Kandadundo Kannan Pol' which was taught to him by Radha, daughter of M.S. Subbulakshmi. He was sent to the Besant Theosophical School at the age of ten, where the hours after school were devoted to music lessons at Kalakshetra. Slowly his dedication was noticed by Rukmini Devi who enrolled him in dance and in a year's time also put him on stage as a Kattiyakkaran. He continued his training in music and dance side by side with his academic pursuit at Vivekananda College.
"It was not only the fundamentals of music and dance that I learnt but a complete value system. The simplicity in their way of life, the attention they gave to little details both in art and daily activities and their humility taught me the importance of projecting the aesthetics of the art more than the self-projection of the artist. It was only much later in life that I realised that all the teachers who taught me were all legends, who with all graciousness allowed us to partake of their knowledge wholeheartedly," says CVC.
He thinks of the devotion dedication and commitment of teachers such as Periya Sarada and Sharada, who would spend long hours in the evenings to teach him just because Rukmini athai asked them to do so. It was institutionalised gurukulam and not traditional gurukulam.
Importance of creativity
"The place also opened my eyes to the importance of creativity and individuality that an artist needs to develop," he says. "On the one hand I had a teacher like Mudicondan Venkatramaiyar who believed in rigorous practice of traditional Patantharam, singing compositions in a systematic manner and on the other it was M.D. Ramanathan who was so creative that a sangati he sang one day will be so different from the sangati he sang the next day."
Kalakshetra thus was an Aalamaram - banyan tree of great values learnt from masters who were like its many roots.
The rich experience he gained became more meaningful when he moved to Benares for his masters in science. To fund his education, CVC started teaching in three schools to children of traders who he knew would never become performers. He shared with them his knowledge and their devotion to him and the art he imparted becomes meaningful when many of them still keep in touch. He taught at Benaras and Baroda too for many years and continues to teach young dancers from varied dance schools imparting his knowledge as a continuation of a Paramparyam, the Guru-Sishya Paramparyam.
Prof. C.V. Chandrashekar will be conferred the M.N. Subramanian Memorial Award at the Music Academy, on January 13, 6 p.m., by N. Murali, president of the Academy.
2013.1/12 THE HINDUの記事です。
私たちの偉大なる師匠、Our father in India
半世紀以上に渡り、現役ダンサー&音楽家&振付家として活動し、今も常にその大きな背中で私たちを導いてくださっています。
先日、日本で言えば国民栄誉賞のような賞、PADMA BHUSHANをインド政府から受賞されました。
http://en.wikipedia.org/wiki/C._V._Chandrasekhar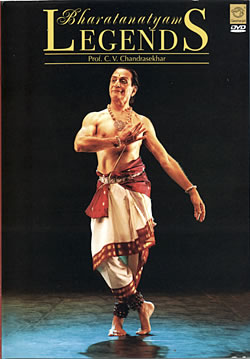 (DVDのジャケット写真から)
Prof. C.V.Chandrasekhar